CDPlayer.app
From GNUstepWiki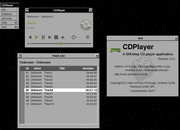 CDPlayer is a small CD Audio Player for GNUstep.
Current Version: 0.6
Released: Apr 9, 2015
Licensed: GPL
Overview

This application runs on Linux and OpenBSD, with libcdio to handle disc reading.
Older versions were using the old CD-ROM drive based CDDA reading capabilities that'd connect to your sound-card and mainboard.
This new version thus works with new USB based CD-Drive readers as well.
It comes with plenty of desirable features that you'd want with any CD player!
Features
Play back Compact Disc Digital Audio
Uses Cynthiune's output bundles
Able to display cover art
Supports reading CD-TEXT
Supports querying CDDB/MusicBrainz
Maintainer
Related Links