Expense.app
From GNUstepWiki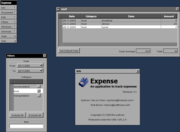 Application to track your expense.
Current Version: 0.1
Released: Apr 4, 2004
Licensed: GPL2
Overview

Expense is a very lightweight application to track your expenses, much like you might expect to find on a PDA.
It is built upon the code found in Yen-ju Chen's excellent Money.app tutorial.
Features
Date, category, and item filters, generated from the contents of your expenses.
Localized for Thai.
Full source code available.
Maintainer
Rob Burns
Related Links