Freecell.app
From GNUstepWiki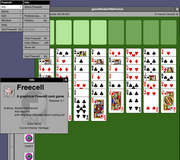 Freecell is a Solitaire card game.
Current Version: 0.1
Released: Sep 28, 2017
Licensed: ISC, some assets GPL2
Overview

A port of the Mac OS X version of Freecell to GNUstep. Now you no longer have to be envy of Windows 3.0+ users, since you've got it right here on your very own Workspace!
If you've never played Solitaire, this is a great version to start with. It tracks your session time, counts your moves and everything else you'd expect.
Just watch out - your employer might see you running this on your workstation! Make sure to keep a spreadsheet window on hand to hide your progress!
Features
Solitaire for GNUstep
Logging of all your sessions
Can show hints
Maintainer
Related Links