Mplayer.app
From GNUstepWiki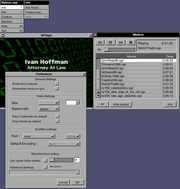 Mplayer.app is a GNUstep port of
MPlayerOSX
.
Released: May 2, 2005
Licensed: GPL2
Overview

Mplayer.app is a front-end/controller for MPlayer, using its --slave API. It is based off MPlayerOSX and contains changes towards building it on GNUstep.
It supports queuing of media-formats supported by MPlayer in a playlist. The playback window it spawns is that of regular MPlayer.
Thanks to the Internet Archive, its source-code was discovered and fixed up by a new maintainer. Aside from fixes, file-type extension icons were added as well as a new icon in the style of GNUstep.
Features
PlayList
Statistics
Info Panel
Fullscreen
Add/remove subtitles
Full source code available
Settings and Preferences Panel
Maintainer
Related Links