NetSurf.app
From GNUstepWiki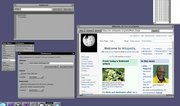 NetSurf - Small as a mouse, fast as a cheetah and available for free. NetSurf is a multi-platform web browser for RISC OS, UNIX-like platforms (including Linux), Mac OS X, and more.
Released: Apr 29, 2022
Licensed: GNU GPL 2
Overview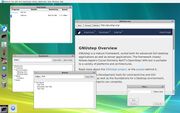 The GNUstep port was done by Anthony Cohn-Richardby, based on the work of the original NetSurf Cocoa port by Sven Weidauer. It's identical in feature set to the Gtk interface for NetSurf.
Features
NetSurf, you can visit most of the WWW!
Bookmarks
Tabs
History
Download Manager
Search Engine integration
Maintainer
Related Links