PikoPixel.app
From GNUstepWiki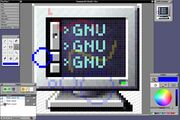 PikoPixel
is a free, open-source application for drawing & editing pixel-art images.
Current Version: 1.0b10
Released: January 5, 2021
Licensed: AGPL v3
Overview

PikoPixel runs on both Mac OS X and any other UNIX-like system running GNUstep. Its straightforward nature and advanced editing capabilities make it a good candidate for editing small images, especially icons. It's another great example of achievable portability and compatibility between Mac and GNUstep sources.
Features
Easy to use
Unlimited undo
Supports multiple layers
Customizable canvas background
Hotkey-activated popup panels
Export upscaled images
Supports linear (gamma-correct) spacecolor blending
Maintainer
Related Links