Zipper.app
From GNUstepWiki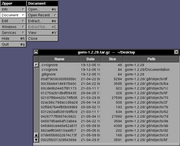 Tool for inspecting the contents of a compressed archive.
Current Version: 1.5
Released: April 21, 2013
Licensed: GPL v2 or later
Overview

Zipper consists only of a single window, displaying the contents of the selected archive. Currently, you can view and extract .tar, .tar.gz, .tar.bz2, .rar, .lha, .lhz and .zip archives.
Since Version 1.4, Zipper moved to GAP in accordance to the original Author and changed its license to GPL v2+
Features
Multi-document
ZIP, TAR (and BSD tar), LHA, 7Zip, ACE, ARJ, ZOO
TAR, LHA, 7Zip, ZIP and ZOO creation
GWorkspace integration
Maintainer
GNUstep Application Project team
Related Links